Zika virus is a virus belonging to the family of Flavivirus, which causes mild illness in the human body. This term 'Zika' bears its origin to the Zika Forest in Uganda, where the virus was first discovered. It was known to be confined to Africa till 2007, when a case was reported outside Africa. This illness is characterized by fever, muscle and joint pain, conjunctivitis and rashes. Other uncommon symptoms include malaise, nausea and abdominal pain. The symptoms do not continue for more than a week and the illness is mild enough to require hospitalization.
However, Zika  Virus has been notorious for complicating health in the form of other illnesses like Guillain-Barré syndrome and Microcephaly. In GBS, a person's immune system attacks the cells of the nervous system. Microcephaly causes birth defects in children, which includes under-sized craniums and other developmental issues. Since the detection of the first case of Zika Virus in Brazil in 2015, the numbers have increased in parts of Latin America and French Polynesia. Countries like El Salvador has even gone to the extent of urging women not to get pregnant till 2015, to avoid Microcephaly in children.
Sponsored link
Zika Rash – What does it look like?
The rashes associated with this kind of illness are of maculopapular type. Such rashes are flat otherwise with small bumps at places. They are erythematous, red in colour. Maculopapular is a word combining two words; macule and papule. Macule refers to small spots which are flat and discolored present on the surface of the skin.  Papules are small slightly raised erythematous red spots. Maculopapular describes the kind of rashes which combine both the features.
Such spots may be either morbiliform or scarlatiniform in nature. Morbiliform are the ones which are similar to that of rash of measles. These macular lesions are around 2-10 mm in diameter and red in colour. They may be confluent (appearing together) at places, making the rash appear larger.
The scarlatiniform rash, as the name suggests, are similar to the rashes appearing in scarlet fever. These are small red rashes, numerous and having diffuse distribution. This name is not characteristic to scarlet fever and should not be confused.
The rashes occurring in Zika Fever are known to start with the face, which later spreads to the rest of the body. The rash appears on face on the first day of the appearance of symptoms. The rashes get their peak at the second or third day and start disappearing then after.
Zika Rash does not need any specific treatment and subside within a few days by themselves. They do not leave away any scar or spots and the skin returns to its normal structure after the rashes subside.
Sponsored link
Zika Virus  – Prevention
The WHO (World Health Organization) has declared 'Zika' as a global emergency  with 23  countries reporting cases of infection.  Read about Zika affected countries.  There are increasing numbers of cases that are being reported in many more nations.  WHO reports that 4 million people in the world may be infected by the end of 2015, if the situation is not brought into control. The main reason for this spread is the increased international traveling. Pregnant women are the biggest risk factor with the threat of Microcephaly. So far, there are no medications or vaccines known to be effective against this virus.
The only way to prevent the disease is to prevent mosquito bites. This can be done by using proper insect repellents and wearing long- sleeve clothes and keeping yourself covered. Also you can minimize the multiplication of mosquito in your area by preventing stagnation of water in every possible manner.
Zika Rash – Pictures
Here is how the rash triggered by Zika Virus looks like.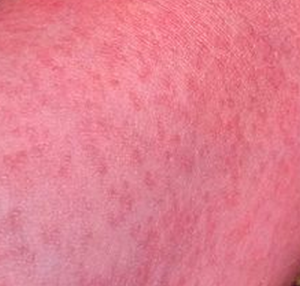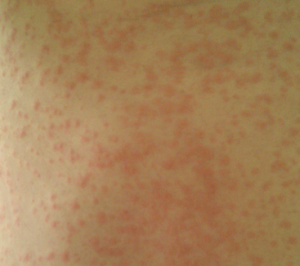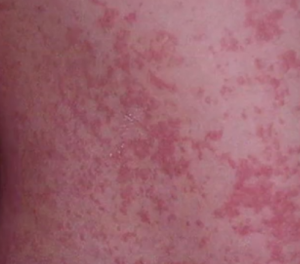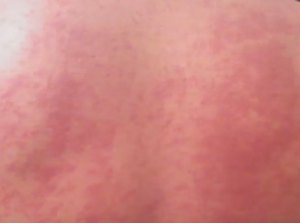 Sponsored link