Brown spots on face is a harmless condition and can be caused due to varied reasons. As brown spots can cause an unsightly appearance, patients may use different home remedies or consult a dermatologist for treatment.
Causes of brown spots on face
Brown spots may appear on the face due to numerous causes. One of the most common causes is overexposure to sunlight. The skin produces melanin to protect itself from the harmful effects of the UV and UVB rays. Melanin absorbs these rays which is what leads to tanning of the skin. Increased and prolonged contact with the harsh rays of the sun causes melanin to buildup in clusters, ultimately resulting in development of brown spots on face.
Older individuals are more prone to the condition as they have endured exposure to sunlight for a longer period of time. Also, the skin cells regenerate at a slower pace as one grows older, which in turn further increases the vulnerability to development of brown spots on face.
Fluctuation of hormones during pregnancy or menopause can also increase the risk to developing the unsightly brown spots
Other possible causes of brown spots on face include allergies, stress, use of oral contraceptives, insufficient skin care, aging, liver abnormalities, acne, and inherited disorders.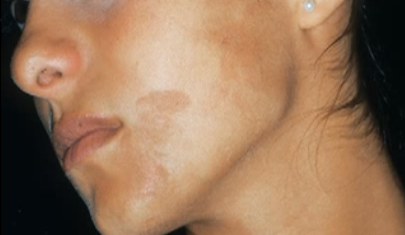 How to get rid of brown spots on face
Patients must consult a dermatologist to get advice about the best possible ways to get rid of brown spots on face. Some of the treatment options are listed below:
Sponsored link
Sponsored link
One of the best ways to prevent the development of brown spots on face is by avoiding overexposure to direct sunlight. You should avoid venturing outdoors between 10 AM and 4 PM when the sun rays are most intense. Use sunscreen with recommended SPF levels, hats, and adequate clothing to limit the area of exposed skin so as to prevent skin damage. For maximum skin protection, you may use the sunscreen along with oil free lotions that have vitamin C, beta hydroxy acids,alpha hydroxy acids, or salicylic acid as active ingredients.
Chemical peels can be used to efficiently and safely eliminate the brown spots on face. The process involves gradual peeling off of the outer skin layer and gets completed in 6 to 8 sessions.
Brown spots which are tough to remove can be eliminated by use of different types of lightening creams. The best bleaching agents contain hydroquinone acid which lowers the production of melanin.
Intense pulsed light therapy, microdermabrasion, and laser therapy are other treatment options.
Mild cases of brown spots on face can be removed via the below listed home remedies
Apply a mixture of tomato juice and lime juice and leave it overnight. Wash with lukewarm water.
Apply a paste made from rose water and sandalwood to get rid of the brown spots on face
Apply raw grated potatoes, or red onion juice, or a mixture of lime juice and fresh parsley leaves on the affected area. Wash after 10 minutes
Another great home remedy for brown spots on face is application of a mask made from raw turmeric and honey.
Dried orange peels combined with yogurt, as well as sour cream can also be applied on the brown spots to remove them.
Sponsored link